If you thought CryptoKitties was bad you ain't seen nothing yet. Welcome to the latest cryptocurrency craze, CryptoCelebrities.
Here's how it works. Using Ethereum people can buy virtual trading cards of famous celebrities whether that's Elon Musk or Emma Watson. The value of each card starts out cheap at like 2 cents a pop and then doubles every time somebody else wants to buy it. So, if someone else thinks that owning the Emma Watson card is worth 4 cents, you'll have no choice but to hand it over to them. This goes on and on until you reach a point where someone is left holding a card that nobody else wants. Great for all the people who are doubling their money along the way. Not so great for the person who is left holding the card. It's like a high stakes game of hot potato.
Is this really what we're going to be using the transformative potential of the blockchain for? To trade virtual cats and celebrities? Fortunately, there may be another new blockchain based app that will actually do some good. It's known as Climatecoin and its aim is to become the world's first carbon neutral cryptocurrency. It works by attaching itself to the long standing idea of carbon credits in which nations that produce more than their allotment of carbon emissions can purchase credits from nations that have extra.
Futurism explains how the carbon credit system works:
"The idea behind the system is that everyone has a limit to the emissions they can produce. If a nation wants to exceed its limit, it must purchase a carbon credit. Each of these carbon credits serves as a permit to produce a certain amount of emissions; for example, one credit might equal one ton of carbon dioxide emissions.
If an entity ends up with extra carbon credits, it can trade them to others on markets such as the European Union's Emissions Trading System (ETS).
From this system emerged voluntary carbon offsets. These give companies and consumers the ability to pay a certain amount to offset their own emissions. For example, an airline might ask passengers if they want to pay an extra $20 when purchasing a ticket to offset the emissions caused by their flight.
The money used to purchase carbon credits and offsets is given to projects attempting to help the environment, such as by developing renewable energy systems or protecting forests.
These credits give purchasers a way to effectively cancel out the amount of emissions they produce. They're doing something bad to the environment, so they give money to someone attempting to do something good for it."
Climatecoin piggybacks on that idea allowing for investors concerned with the negative environmental impact of cryptocurrency mining (due to the amount of electricity consumed during the process) to essentially purchase carbon credits. The money raised from this sale is then used to contribute to environmentally friendly projects.
All in all, Climatecoin is, as they say on their website, a way for people to invest in the planet. For example, through this technology you can arrange, in a transparent way, for peer to peer transactions that would raise money to fix the environment or you could use it to set up a peer to peer system of trading assets representing a certain amount of energy production. Either way you'd be doing something to try and fix the climate without harming it any further in the process. Surely, a much better use of ones time than collecting coins representing the cast of Friends.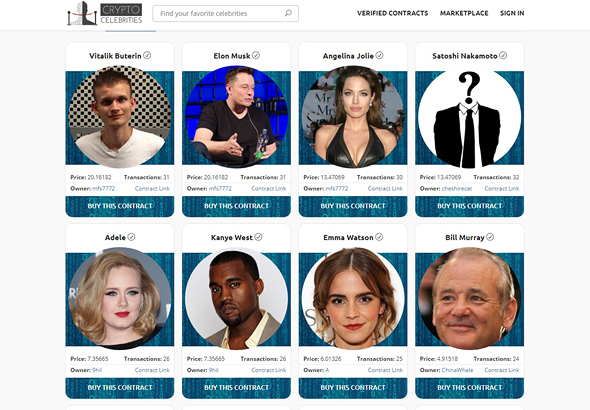 Is CryptoCelebrity the Greatest Idea Ever? Is Climatecoin?