I've never understood climate change deniers.  Are you denying the fact that the climate is changing at all?  Or are you just denying the fact that humans may be responsible for the change?  Either way if there's even a chance that danger could be looming on the horizon shouldn't you be doing everything in your power to prevent it?
In other words instead of just reacting to the news that the climate may be changing, why not take preventative measures and protect the environment, at all times, not because you have to, but rather because doing so is just something that one does?  And yet we don't do that.
Instead we spend more time worrying about fake calamities than we do an actual ecological disaster staring us in the face.  With Y2K it was like the sky was falling.  In 2012 we literally thought the Earth was going to suddenly stop spinning on its axis because the Mayan calendar was ending.  The Large Hadron Collider? A means to opening up a wormhole that will wipe out all life on Earth.  North Korea developing nuclear weapons? The end of life as we know it.  And yet when we're told repeatedly, by actual scientists mind you and not crack pot conspiracy theorists, that we are in actual danger, we take what we have for granted and turn a blind eye to the very real danger that our ignorance is causing.
I just don't get it.  The dinosaurs got wiped out by an asteroid that they never saw coming.  We're faced with an ecological asteroid that we do see coming and could do something about and we still ignore it?  Sadly, that's a luxury that we just don't have anymore.
According to a recent U.N. report we only have 12 years to counteract the effects of Climate Change before a global catastrophe unfolds that will wind up killing hundreds of millions of people.  We're only talking about twelve years.  Barely over a decade.  In other words, the planet is going to be ruined beyond repair at this rate within our lifetimes.  Not our children's lifetimes. Not our grandchildren's lifetimes.  But within our own lifetimes.  Forget about having a mid-life crisis.  We're all going to have a life or death crisis facing us on a daily basis in the near future.
This isn't something that we can ignore.  We've already tried that and it didn't' work.  This problem isn't going to go away on its own.  No miracle cure is coming.  No technological breakthrough is going to clean up our mess for us.  There's no great idea for me to write about.  The only way to save ourselves is to adapt widespread societal changes on a global scale.  And yet not everyone is on board with this plan.
As Grist puts it, "This report is a rallying cry to save the basic functioning of human civilization, shouted into the din of a news cycle dominated by a media that pretends not to understand, in a world led by anti-democratic politicians that pretend to be doing enough, aimed at a populace that pretends not to care."
It's a sad but true commentary on life in 2018.  We're all either so caught up in our own lives or just totally desensitized to the news at this point to pay any attention to the bigger picture.  If we are doomed it's a fate that we deserve.  One that we sealed years ago with our iPhone addictions, me first attitudes, and celebrity culture.  Relying on technology hasn't saved us.  It's rendered us impotent.  Blinded us to the only truth that really matters: that we were dying a slow death of our own doing.
So if there is a great idea to be gleamed from all this it's this: put away your phones.  Stop refreshing your Facebook feed, scrolling through Instagram, or browsing YouTube.  Stop building your brand.  Discontinue your side hustle.  Put your life on hold and live like there's no tomorrow because soon there won't be.  Rack up credit card debt like nobody's business.  Attack that bucket list of yours with rigorous vigor.  Do everything you've always wanted to but never had the chance.  Do it all.  Carpe Diem and all that.  Because soon the only thing you'll be doing is fighting for survival Mad Max style.
As a glass half-full futurist with an optimistic view of the future it pains me to say that.  I want to believe that greener pastures lie ahead.  That scientific breakthroughs and technological advancements will save the day and usher in a new era of great prosperity.  That gene editing, driverless cars, 3-D printing, clean energy, quantum computers, the blockchain, virtual reality, and all the rest will make our lives better.  After all it's a rhetoric that I've been repeating for over five years now, every time I've written a blog post.  But I'm not so sure anymore.  This report from the U.N. is dire.  As dire as dire gets.  And I haven't seen it get much attention since it came out last week.  No emergency sessions in Congress.  No newspaper editorials.  No buzz whatsoever on social media or in the workplace.  Even if we're not all going to ban together to save the planet you would think that we would at least do what anyone with a terminal diagnosis would do and just go out with a bang.  And yet nothing has changed.  We are literally ignoring our own death sentence, neither taking the drastic steps necessary to change it, nor accepting our fate.  I guess what they say is true.  Ignorance is bliss.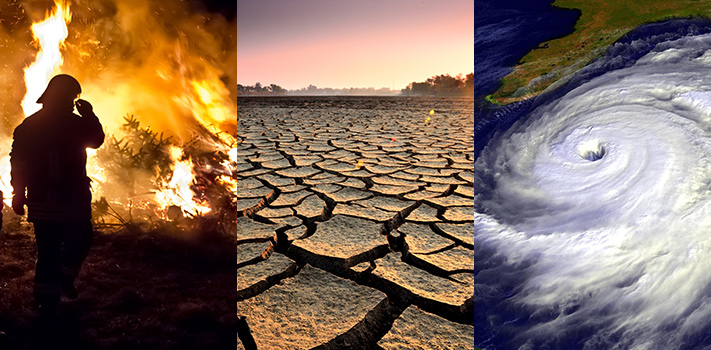 12 years is all we have left.