Conspiracy theorists often ask: if the moon landing wasn't faked and we really did land on the moon then why haven't we gone back?  If it was so easy to get to, surely we would have gone back by now, if for no other reason than to say that we can.  Right?!  And yet…
The obvious answer is that NASA decided to focus its limited resources elsewhere.  Such as going to Mars instead.  And even though there was no evidence to support this claim it always seemed likely to come true.  It was the obvious next step in mankind's on-going quest to become a multi-planetary species.  Even if we weren't 100% sure.
Well, now we have our proof.  Because as it turns out, NASA really has been focusing on figuring out how to get to Mars and what to do once we get there.  For instance, last year it was reported that NASA wants to build a magnetic shield around the red planet in order to terraform our nearest stellar neighbor.
According to Wired UK, "The shield would allow Mars to slowly restore its atmosphere over the course of a few years. Once an atmosphere had built up, the greenhouse effect would take over and heat up the planet, potentially making it warm enough for liquid water to exist on its surface."
Assuming that this plan would work opens up a Pandora's box of subsequent questions.  Each more daunting than the last.  Starting with how we would power our operations there and our journeys back and forth.  The weight and cost of fuel being such that it is virtually impossible to transport.  Luckily, NASA has spent the last decade working out that problem as well.
As Engadget puts it, "Being able to generate power will be essential for long-term space travel. Powering a stay on Mars, for example, will require a lot of fuel, way more than we can pack onto a rocket. That's why NASA, Los Alamos National Laboratory, the Department of Energy and a number of other groups have been working on a small, transportable nuclear reactor that can reliably generate power on the go. The reactor they're developing is called Kilopower and earlier this year, they announced that they had conducted successful tests of the system…and reported that those tests went extremely well."
See that, conspiracy theorists.  It's all going to work out in the end.  Even if we did ake the Moon landing we're about to go to Mars for real.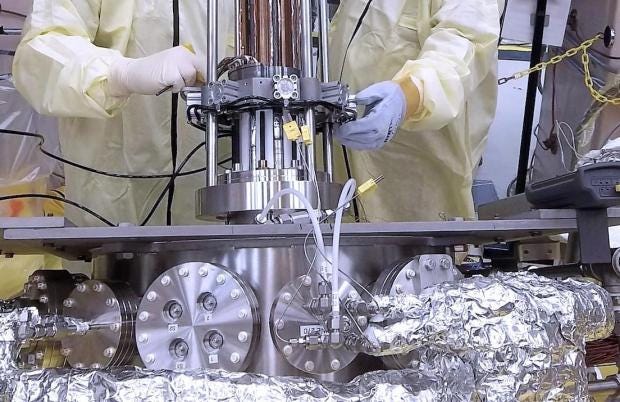 Is Kilopower the Greatest Idea Ever?