An action packed week.  Even more so than usual.
1. The most habitable exoplanet yet.
Scientists have found water vapor in the atmosphere of an exoplanet making it the most habitable place we've yet found!
As Wired puts it, "On Wednesday, a team of astronomers from University College London announced that they detected water vapor in the atmosphere of a 'super-Earth' planet outside our own solar system. This is the first time water has been detected in the atmosphere of an exoplanet that is not a gas giant, which the researchers say makes it the most habitable exoplanet currently known. The planet, known by the catchy name K2-18b, is 110 light years away and orbits a red dwarf star about half the size of the sun. The planet is twice the size of Earth, eight times as massive, and orbits its host star once every 33 days."
2. New lens works better than human eye.
A revolutionary new lens could transform every optical instrument from cameras and eyeglasses to telescopes.
According to Endgadget, "A new breakthrough could soon revolutionize the design of almost every optical instrument in use today, including cameras, eyeglasses and telescopes. Combining recent developments in artificial muscle and flat lens technologies, a team of researchers at the Harvard John A. Paulson School of Engineering and Applied Sciences (SEAS) have created a new lens that functions a lot like the human eye. Not only is the instrument capable of focusing in real-time thanks to an elastomer muscle, it features none of the bulk of a traditional spherical lens. It can even do some things the human eye can't, including adjusting for astigmatism and image shift, two variables that lead to blurry vision."
3. Miracle Sheets.
A new brand of bedding could revolutionize home hygiene.
As Futurism puts it, "Miracle brand products are woven with anti-microbial silver that kills 99 percent of bacteria, meaning they stay cleaner and healthier much longer than a typical pillowcase or washcloth. To put it in more precise terms, Miracle's products can be washed three times less often than other silver-free products because they're essentially self-cleaning. How does silver accomplish all this? It all comes down to the precious metal's ions, which naturally carry a positive charge that draws in bacteria and other microbes like a magnet before destroying them before they reproduce."
Having to clean and do laundry less often? It's a miracle!
4. Liquid Magnets.
The list of amazing accidental discoveries just got a little bit longer.
According to Futurism, "Scientists created a metallic liquid capable of maintaining a magnetic field for the first time in history — and they did it entirely by accident.
University of Massachusetts Amherst engineers were working on 3D-printing liquids when they discovered that the droplets of iron, oil, and water were able to maintain a magnetic field, the researchers told Live Science, a first for any liquid."
The discovery could lead to the invention of programmable tools.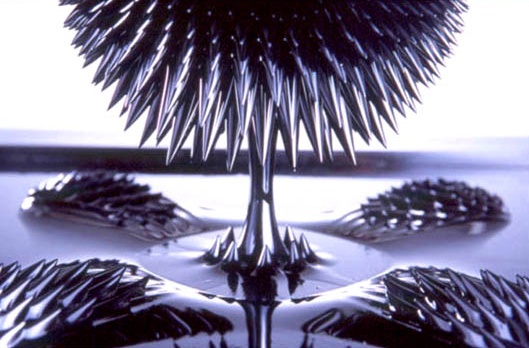 Are any of these the Greatest Idea Ever?