I've written in the past about Enchanted Objects, items that elicit an emotional response when we use them.  There's a pill bottle that glows when it's time to take your medication, an umbrella that lets you know if it's going to rain that day, and best of all, the proverbial wallet that gets harder to open as you approach your monthly budget.
On the one hand these objects are really just a part of the Internet of Things.  Nothing special.  But on the other hand, because of the way they make us feel, they're so much more than that.  They're real life examples of the objects from Harry Potter.  Whimsical every-day items that are seemingly imbued with magical properties.
But why stop at making items that look and feel like they could belong in Harry Potter when you could make an actual item from the series come to life!  That's right.  We now have the Eta Clock, a timepiece that aims to mimic the Weasley Family Clock, enabling people to keep track of their loved ones' whereabouts at a glance.
As the Verge puts it, "Unlike Mrs. Weasley's version, the Eta Clock relies on modern technology rather than actual sorcery to accomplish the job. Using a companion app, each user can set specific locations on their phone corresponding to places like 'work,' 'gym,' or 'school,' along with more general categories like 'abroad' (when someone is outside their home country), 'transit' (if the individual is traveling faster than three miles per hour), or 'lost' (if the person's phone hasn't updated location in more than five days)."
According to their website, "The Stata Clock wall-hanging device works in conjunction with our Stata Clock mobile app. To get connected, simply download our app and share your locations. Our simple mobile experience uses minimal battery power and makes staying connected effortless.
Want a bit more privacy? Not a problem – privacy levels are set by each individual user. Best of all, you are in complete control of your data. We remove all location data from the cloud as soon as we send it to your clock and never keep it for more than 48 hours."
Privacy concerns are obviously a huge factor with this product but the fact that the clock deals in generalities not specifics helps ease those concerns.  A parent would simply know that their son or daughter was out with friends.  Not specifically where they were.
Pretty magical if you ask me.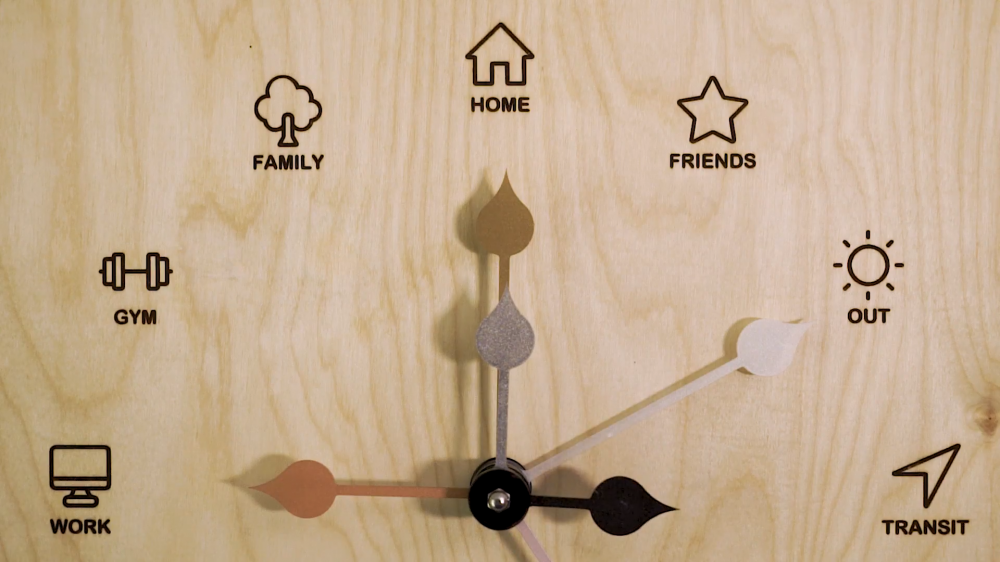 Is the Eta clock the Greatest Idea Ever?