When it comes to stopping COVID-19 we may need to start thinking outside the box.  And it doesn't get much more outside the box than the idea of banning deodorant to force people to not only wear masks, but to do so properly, with their noses covered.
While this may sound like an Onion article it's actually a real plan in Germany.
Jalopnik explains:
"The logic goes like this. In order to stymie the spread of covid-19 but ease lockdown restrictions, Berlin (and the rest of Germany) has instituted a mandatory mask policy in public spaces, including on public transport just like most other cities around the world. While compliance has been high, and fines for neglecting to mask up are even higher, many aren't wearing their masks properly, covering only their mouths while leaving their noses exposed. That's a big problem. Probably bigger than you think.
Since our mouths and noses are ultimately connected to the same respiratory system, covering one but not the other drastically undercuts the effectiveness of mask-wearing. That's where the deodorant (or more specifically, the lack of it) comes in. If passengers are encouraged to allow the natural scent of their body to develop and flower unabated, especially as the summer wears on in a largely non-air-conditioned city, they will provide one another with the encouragement they need to keep their faces fully covered and protected from vile odor and virus alike."
Considering that Germany has handled the spread of the virus relatively well and is lead by a scientifically inclined individual (Angela Merkel completed her PhD thesis on Quantum Chemistry) it would probably be best to follow their lead on this one.  Even if doing so does stink.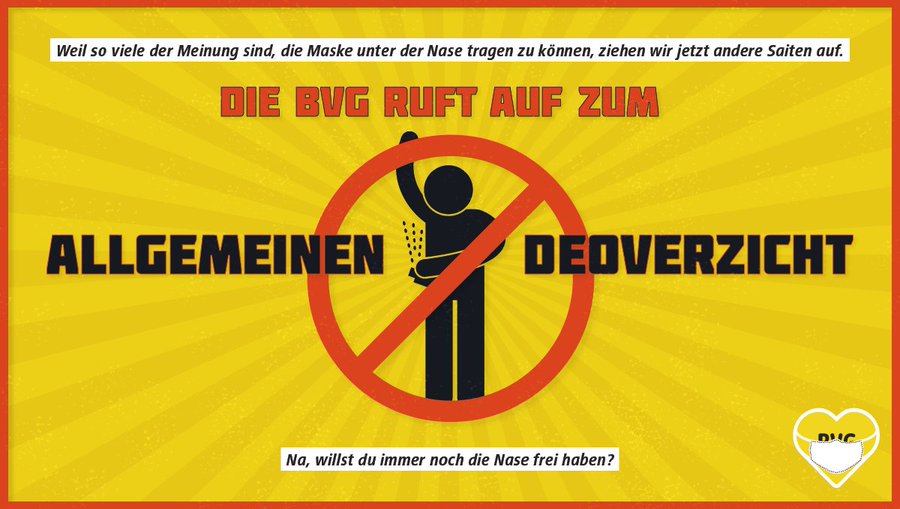 Is banning deodorant the Greatest Idea Ever?