Back on July 15, 2017 Jeff Bezos, Amazon's founder, was in Cape Canerval, Florida at the Kennedy Space Center to receive the first ever Buzz Aldrin Space Innovation Award.  Afterwards he made several attention grabbing remarks about his future plans.
According to Futurism:
"Amongst his statements was an assertion that humans should terraform the Moon. According to Tech Radar, Bezos claimed, "It's time for America to go back to the Moon, this time to stay." He then added, "We should build a permanent settlement on one of the poles of the Moon." He ended on a positive note: "If we have reusable rockets, we can do it so much more affordably than we have ever done it before. We have the tools. We have the young people with a passion to do it. We can get that done today.'"
Well maybe not today but soon enough and now less than two years later Bezos has finally unveiled those specific plans which involve sending a moon lander known as Blue Moon to our satellite's south pole, bringing his bold proclamation one step closer to fruition.
As Wired puts it:
"When Robert Heinlein wrote his masterpiece of space age realism, The Man Who Sold the Moon, he had no way of knowing how prescient it would be. Published in 1950, it tells the tale of Delos D. Harriman, the 'last of the robber barons', who is hellbent on being the first man on the moon. Harriman drives himself to the brink of bankruptcy and madness chasing his lunar ambitions, which he feels can't be left to the bumbling government bureaucracy to handle. At the dawn of the new space race, it feels more relevant than ever.
These days, billionaires with their own space program are in abundant supply—Elon Musk, Paul Allen, Richard Branson, Robert Bigelow. But towering above them all is Jeff Bezos. Once the richest man in the world, Bezos is Harriman become flesh. For the last 19 years he has bankrolled his space company, Blue Origin, almost entirely out of pocket and has made his goal of colonizing the moon known. He is also, incidentally, a big fan of Heinlein.
Today Bezos unveiled a mock-up of Blue Origin's lunar lander at a small invite-only event in Washington, DC. As detailed by Bezos, the plan is to send the lunar lander, called Blue Moon, to Shackleton Crater at the moon's south pole. Last month, the company hinted at its plans with an enigmatic tweet depicting Endurance, the ship that carried British explorer Ernest Shackleton on a disastrous mission to Antarctica in the early twentieth century."
The idea here is that Blue Moon will drop off important supplies at Shackleton Crater, paving the way for future manned missions by 2024 that will lay the groundwork towards establishing a permanent human colony on the moon.  A colony that could then pave the way for future space exploration missions including the eventual terraforming and colonization of Mars.
Bezos has taken a lot of flack lately for his sexual transgressions which have lead to him getting divorced and losing half of his wealth and rightfully so.  But maybe Bezos' self-inflicted walk of shame should have been met with more sympathy.  Considering that Bezos was funding Blue Origin himself, that loss of wealth also means that there's now less money pouring into Blue Origin.  For now, it doesn't seem to be affecting his plans but perhaps it one day will.  Turning Bezos into a real-life version of Harriman, going bankrupt to fulfill his dreams.  For our sake and the sake of humanity's space-faring future, let's hope that's not the case. Especially when you consider that Bezos has far-ranging ambitions when it comes to space, aside from just wanting to colonize the Moon.
According to Fast Company:
"Bezos announced a massive vision for the future in which "Earth is zoned residential and light industry," with heavy industry and mining moving to space.
But even a gentrified Earth won't be enough to support the ballooning human population. So Bezos is also proposing a constellation of space stations modeled after ideas from his former Princeton professor, Gerard O'Neill. The physicist's namesake O'Neill cylinders would be miles-long, mile's wide structures that rotate–using centrifugal force to produce artificial gravity–and harvest sunlight to grow crops."
The cylinder space station idea is one that is firmly rooted in science fiction so to me the idea that is the most revolutionary here is the idea that Earth would be "zoned residential" with all industry moving to space.  Considering how expensive it is to get things into orbit relocating all industry into space would seem to be a daunting task.  But it makes sense.  Earth is the only place in the known Universe that can support life.  Shouldn't it therefore be 100% committed to that one and only task?  Everything else that can take place somewhere else should do just that!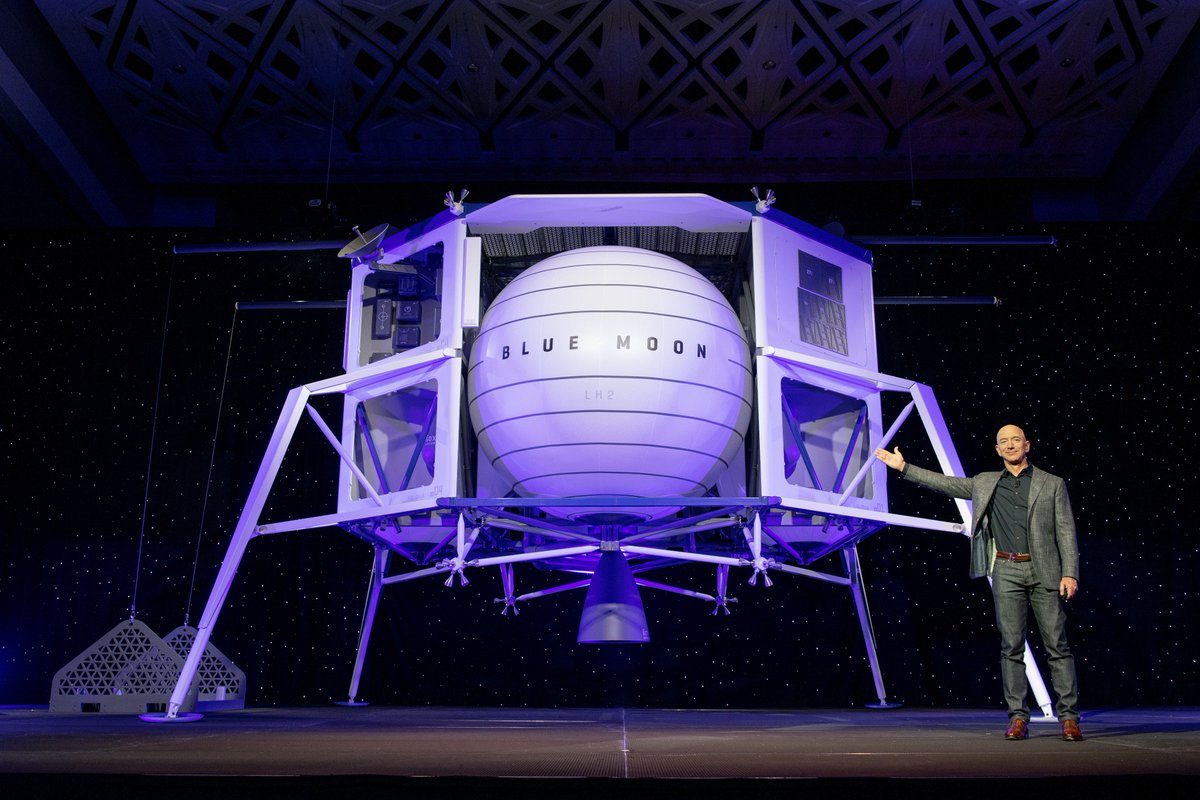 Is Blue Moon the Greatest Idea Ever?