Need help dealing with a difficult breakup? No need to bother your besties.  Onward has got you covered.
As Fast Company puts it, "You just broke up and now you need to move out. Meanwhile, you're an emotional wreck over your ex, barely able to focus at work, let alone organize a U-Haul. How can you possibly deal with so many logistics at such a time? Why not just pay someone else to do it?
That's the premise of Onward, the newly launched 'post-breakup concierge service' that handles all your packing, housing, and self-care needs. Consider it relocation with a soft touch. A one-stop shop for moving out and moving on.
[After all] if one can easily hire a wedding planner or funeral director, then why not a breakup handler?"
Such a person would help you handle the obvious logistical issues that arise during a breakup. Such as gathering your prized possessions.  Something you may not want to do if the other person is going to be around.  But they will also help you handle the not so obvious issues such as helping you find a therapist to talk to.  You can also pay to receive recommendations for singles events and things to do in your area.  Everything you need to get back on your feet.  One overwhelming task at a time.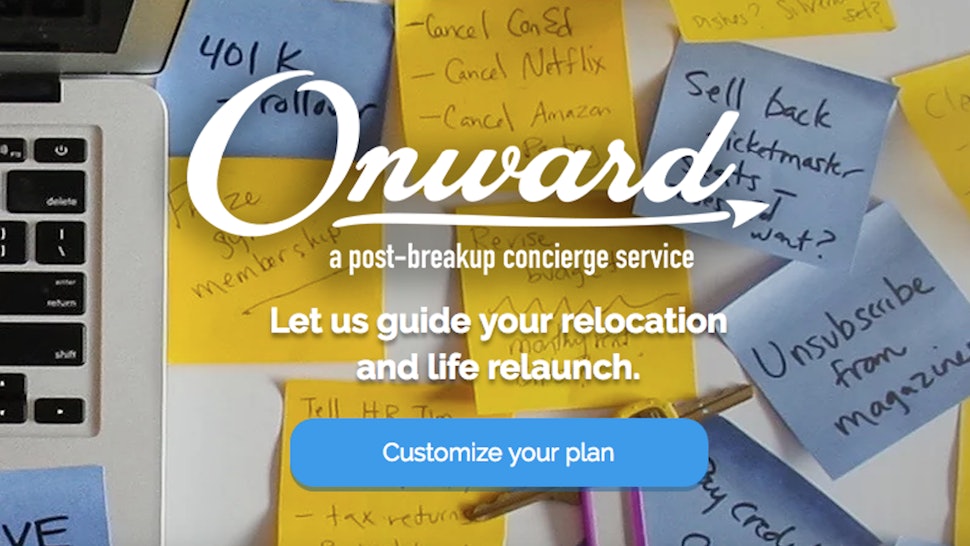 Is Onward the Greatest Idea Ever?