Thanks to a new breakthrough it may soon be possible to 3-D print electronics directly onto our skin.  A development that could have far-reaching implications for what it means to be human.
As Futurism puts it, "It's the stuff of cyberpunk science fiction — tattoos adorned with flashing lights and sophisticated circuitry. They'll monitor our vitals, we're told, and feed us personalized health advice in real time. They'll wire our biology to the web, and put the internet of things at — on, in — our fingertips. They'll enhance our five senses, and perhaps even give us new ones."
But that's not all.  These new electronic tattoos will have a whole host of applications with them even being described as the Swiss arm knives of the future.
According to the Independent:
"Researchers have figured out a way to place electronics directly onto a person's skin using a 3-D printer, paving the way for wearable sensors and even solar cells that can charge electronics.
Researchers at the University of Minnesota developed the 3-D-printing technique using ink containing conductive silver flakes, which can be peeled off the skin when the so-called electronic tattoo is no longer needed.
Potential uses for the new technology also include printing biological cells into wounds to help them heal, which the researchers believe could lead to new medical treatments for injuries and skin grafts."
I've never wanted to get a tattoo before but I may need to rethink that stance based on this new breakthrough.  For an electronic tattoo with those kind of abilities would definitely be worth having.  Making me healthier, keeping me informed, putting me in control of my own little world.  The fact that I would now be a bad ass as well would just be icing on the cake.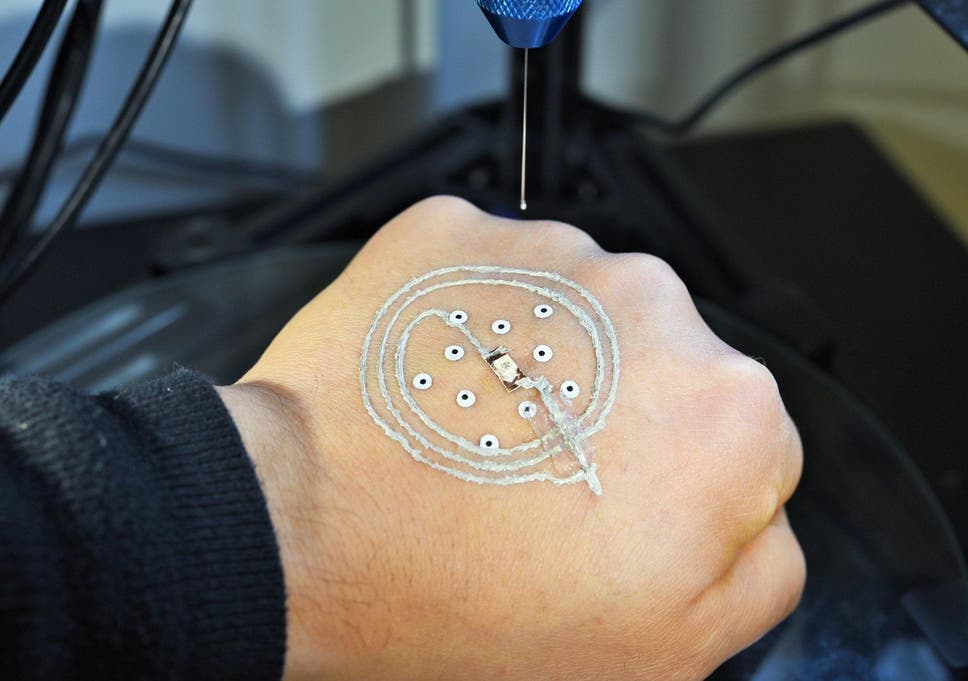 Is a 3-D printed electronic tattoo the Greatest Idea Ever?