The way something looks and feels matters.  And not just to designers and architects.  But to everyone.  It's why wedding invitations are written in calligraphy and it's why Apple obsesses over their packaging.  But at the same time I'm not usually one to pay that much attention to granular details like what font someone is using.
Granted, I do like some more than others.  I'm particularly partial to Calibri.  But I'm not going to stop reading someone's blog if they are using Times New Roman instead.  A font is a font is a font.  You may have your preferences.  And some may fit certain situations better than others.  But at the end of the day it's just semantics.  Just a simple matter of taste.
Or is it?  What if a font could be more than just a font?  What if it could change the world?  Well, soon there may be a font capable of doing just that, thanks to the aptly named Sans Forgetica, capable of upending our preconceived notions about what a font is or should be.  That's because Sans Forgetica is more than just a simple typeface.  It's a whole new way of learning.
As CNET puts it, "Researchers at the Royal Melbourne Institute of Technology (RMIT) in Australia have developed an entirely new font designed 'using the principles of cognitive psychology' to help you better remember your study notes. The font is a sans serif style typeface, with two unusual features: It slants slightly left, which is a rarely used design principle in typography, and it's full of holes.
Those holes have a purpose though. They make Sans Forgetica harder to read, tricking your brain into using 'deeper cognitive processing' and promoting better memory retention. The psychological learning principle is known as 'desirable difficulty' and that obstruction — the holes — mean you dwell on each word just a little bit longer."
The importance of Sans Forgetica in today's day and age of speed reading, headline glancing, and information overload cannot be overstated.  Since we can't force people to be more mindful, to live in the moment more, to take their time when reading, then we might as well do the next big thing.  Design an elegant solution to help people retain more information and build that solution right into the very words themselves.  An absolutely genius approach to education.  Even though I didn't write this post using Sans Forgetica hopefully we won't forget about it.  For implementing it across society could have profound effects.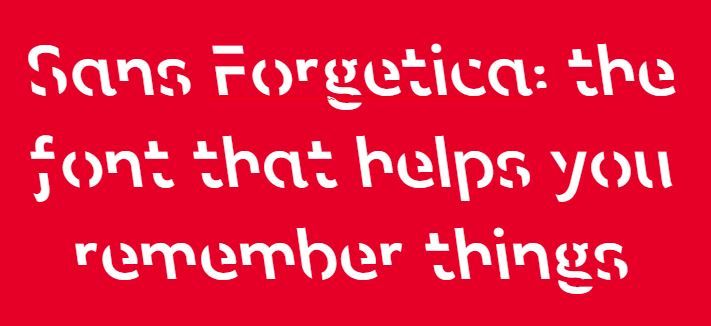 Is Sans Forgetica the Greatest Idea Ever?  Do you remember anything I just said?