For the last twenty years our desktop computers have been getting smaller and smaller while becoming more and more powerful.  But the more things change, the more they stay the same.  For the most part the way that we interact with them hasn't changed.  We still point and click with essentially the same old mouse.
Leap Motion has long hoped to change that by introducing a new way of interacting with computers: with gestures.  Minority Report style.  Where swiping replaces pointing and clicking.  Unfortunately, this has yet to catch on and Leap Motion has instead pivoted towards working on gestural interfaces for Virtual Reality.  An environment where using our hands as the controller makes the most sense.  Except when it doesn't.
You see, Leap Motion doesn't want VR to be limited to a controller based interface.  For true immersion to work you have to fully believe that you are somewhere else.  And for you to truly believe that you are somewhere else everything about your interaction has to seem real and natural.  Waving your hands around to gesture when you don't normally do that in real life makes it painfully obvious that you're inside of a virtual world.  Not to mention the fact that learning hand gestures is a barrier to entry.  It takes time to learn the gestures and master them.
Instead Leap Motion wants to take VR technology to the next level.  To the point where you could interact with the entire virtual environment in a natural way.  Where you could freely use your hands to interact with any virtual object whether that's a book or a lamp.  Just as you would in real-life.  Zero learning curve required.
They refer to this ability to freely use your hands in Virtual Reality as having "Power Hands".
As Fast Company explains, "Each type of Power Hands app lets you do something different–from grab[bing] a virtual object and rearranging it, to paint[ing] in the air with your fingers with a virtual palette attached to your wrist."
Better yet, "One Power Hands app is called Virtual Wearables. It adds a virtual gadget around your hand or wrist that looks like a real-world display or interface. Think of it as a smartwatch that exists in virtual space, and therefore can morph based on context. Instead of memorizing an innumerable amount of gestures to call up different menus or buttons, Virtual Wearables look and act like familiar interfaces. Users can click, open, twist, turn, or swipe them, just like they would in real life."
With Power Hands apps we wouldn't need to design a special way to interact with Virtual Reality.  We could just create virtual representations of real-world controllers.  We could interact with a virtual remote control, a virtual touchscreen menu, even a virtual keyboard and mouse if we really wanted to.  With Leap Motion's technology we could make the virtual feel real, the futuristic seem familiar.  To date, it's the smartest approach to making sense of AR and VR that I've seen.  An approach that that would mirror the real world inside the virtual and create a best of both worlds scenario.  An approach that would finally allow for full immersion.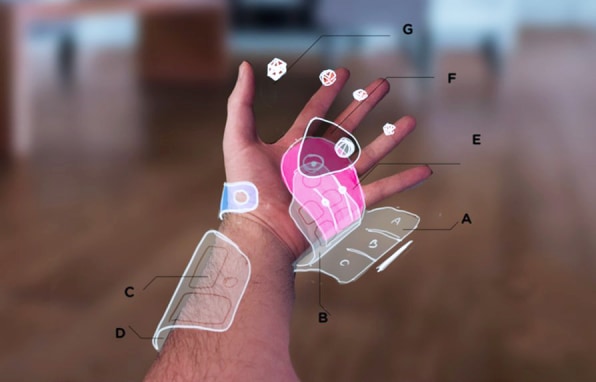 Are Virtual Wearables the Greatest Idea Ever?