Greatness doesn't discriminate.
Neurofiction: What if a book could read you? That's the premise behind Neurofiction, a new literary form that would enable authors to create stories that would change based on a readers' mood.  If the headset finds that you are actually rooting for the villain to prevail then that's what will happen.  On the other hand, if you want a happy ending, you'll get a happy ending.  The technology was first tested earlier this year using a version of Snow White.
 
Artificial Wombs: Easily the most controversial idea on this list, an Artificial Womb would serve the practical purpose of enabling premature babies to continue to develop as if they were still inside their mother's wombs.  However, it could also lead to mothers purposefully choosing to extract their babies during the first trimester to avoid having to go through the child bearing process at all.  A move that would improve a mother's quality of life and remove certain health risks while undoubtedly raising other more ethical concerns.
Blood Vessel Power: In the future we may have miniaturized hydroelectric power plants inside of our bodies that would use the flow of blood through our vessels to power medical implants or wearable electronic devices.
Real Fake Tans: When you get a tan what's really happening is that your body is producing melanin to protect its skin from the sun's harmful UV rays.  Now that process can occur without actually coming into contact with the sun's rays thanks to a protein, known as forskolin, that tricks the body into producing melanin.
Augmented Eternity:  By now we're all familiar with Augmented Reality but an equally important trend in the future may be Augmented Eternity i.e. being able to correspond with dead relatives via an algorithm that can mix together a person's emails, texts, social media posts, and other writings to create a realistic chatbot experience.  Is this a little bit creepy? Absolutely? Are people still going to try it anyway? Absolutely.
Edible Robots: Recent advances in AI and robotics could allow for a long-time staple of science fiction to come to fruition as we soon could swallow miniaturized nanobots that would then deliver drugs to specific targets inside our bodies.  But that's not the weirdest part.  These edible robots might even be able to drive themselves directly into our mouths to get the process started.
Programmable Pasta: 4-D printing promises to revolutionize manufacturing with its ability to change an object's shape over time once an accelerant is added to the mix.  One of the first commercial uses of this technology comes to us in the form of programmable pasta, spaghetti of various shapes that gets larger once you add water to it, driving down shipping costs along the way.
Electric Food: Finnish researchers have figured out a way to channel their inner Nikola Tesla and use electricity to create food.  By adding an electric charge to a specialized powder the scientists created food that was comprised of 50% protein, 25% carbohydrates, and the rest a mix of fat and nucleic acid.
The DBC: The Digitial to Biological Converter could make all of our 3-D printing dreams come true, allowing us to print out medications on Earth, or entire lifeforms on other planets.
The Brainternet: With Elon Musk and others working on ways to meld the human brain with technology it's clear that neuroscience is the next great scientific frontier.  One early pioneer of the movement is the Brainternet, a project to hook up a human brain to the Internet, as just another node in the network.  This would allow for someone to type in a web address, say www.brainternet.com/craigshames, and see a feed of my thoughts.  Eventually, the goal is to make the flow of communication go both ways, so that information could be uploaded from the Internet to a person's brain.
Gravity Blanket: It used to be that you were weird if you carried around a blankie with you.  In the near future you might be considered weird if you don't.  That's because we could soon have a blanket capable of improving our mood, thanks to the unique design of the Gravity Blanket, a 25 pound behemoth that strategically places weight on your body's pressure points as you drape yourself in it.
 
DNA Breakthroughs: Believe it or not this entry has nothing to do with CRISPR.  Instead the weird DNA related breakthroughs are more practical.  First up is, Everence, a new tattoo method utilizing a special ink that's been imbued with the DNA of either a living or deceased person.  This way you'll always have your loved one with you at all times.  There's also a DNA based sunscreen in the works that'll ensure that you never need to apply suntan lotion again as it'll never deteriorate once applied, and in fact, will actually get stronger and give you healthier looking skin over time as you use it.
Photoshop For Audio: In a year dominated by fake news, here's a scary thought: a new tool may act like photoshop for audio, allowing for tricksters to mimic anyone's speech.
Alcohol From Thin Air: A new breakthrough could enable carbon dioxide to be converted into other types of molecules.  Meaning that we could convert the driver of climate change into alcohol or any other carbon-based product that we want!
Ooho: And last but not least, we have the Ooho, quite possibly the weirdest thing on this list.  Ooho, is an edible water blob that you'd eat instead of drink, with the goal being to eliminate our environmentally harmful reliance on water bottles.
Honorable Mention: Slug inspired superglue, DNA video storage, universe in a lab, organic electronics.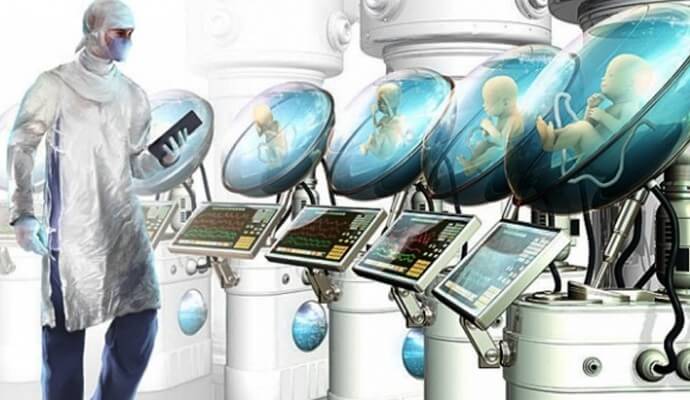 Artificial wombs.  Just because you're weird doesn't mean you can't still be great.