This past weekend I saw my first ever Cirque du Soleil show, a prequel to the movie Avatar – the box office bonanza that featured the inhabitants of Pandora fighting to defend their sacred lands from greedy Earthlings who wanted to mine it for the rare natural resource Unobtainium.  The movie's storyline really resonated with me at the time and does so again now as we similarly fight for the survival of our own planet.  Not from an invading population but, rather, from the one that is already here.
Well, at least some of us are fighting.  Consider the startling contrast as armed forces attack protesters with mace, rubber bullets, and water cannons in sub-freezing temperatures in Standing Rock, North Dakota, all in the name of protecting fossil fuel profits, just as Donald Trump, who is on record as saying that Climate Change is a hoax perpetrated by the Chinese, is set to take office and undo all the great strides that were made during the Obama administration.
CNN put this contrast into perspective when they reported the following:
"'The disaster that Donald Trump represents for the climate cannot be understated,' Jamie Henn, a spokesman for 350.org, an environmental advocacy group, told CNN last week. 'He is the only head of state in the world who is an all-out climate denier and he has the most radical, anti-environmental policies of anyone to ever assume the role of the presidency.'"
Now, more than ever, we need a strong willed President with steel resolve who will move Heaven and Earth in order to save the Earth.  Which I should point out, is the only planet so far, in an infinitely large Universe, that we know for sure is capable of supporting human life. However, instead of getting a champion for our cause we're left having to defend ourselves against an Internet troll.  It shouldn't have to be this hard.  Wanting to protect the planet should be part of our base programming.  Aren't we designed for survival?  Doesn't evolution favor traits that help us survive?  How is it possible then that we could be so willing to blatantly shoot ourselves in the foot?  To willfully destroy our only home.  To destroy ourselves from within.  Logically it doesn't make any sense.
You know, what else doesn't make sense?  Denying climate change, the idea that the actions of mankind are altering weather patterns and the climate as a whole.  Why does it matter if mankind is responsible or not?  If things are changing for the worse try to fix them regardless of whose fault it is.  And if you are that much in denial that there's even any change occurring at all, then just stand aside and be indifferent while others waste their time trying to fix something that, according to you, isn't even broken.  The only reason to actively oppose those who want to fight back against climate change is if you are an even more ardent protector of the Earth and believe that a geo-engineering effort to counteract climate change is actually going to make things worse.  But that's never the case.  The only people who oppose climate change are those who don't understand it. It's the opposite of survival of the fittest.  It's destruction by the dumb-witted.
It would seem then that we're fighting an uphill battle that we're destined to lose, especially as climate scientists suggest that we've already passed the point of no return in terms of global warming.  But all hope may not be lost.  That's because a group of 21 young people and children have taken it upon themselves to sue the federal government for the right to a stable climate.  And they may just win.
As Slate reports:
"After a week that sent advocates of a habitable Earth reeling, new hope has emerged that could make way for substantial climate action in the near term—even during a Trump administration: The children and young adults suing the federal government for their right to a stable climate can now proceed to trial, an unprecedented move in the American legal system.  The path was cleared by a federal district court judge in Oregon who wrote an opinion preliminary finding that a stable climate is a fundamental constitutional right. In the groundbreaking decision, announced on Thursday, U.S. District Court Judge Ann Aiken ruled in favor of a group of 21 children and young adults in their suit against the federal government. In denying the government's motion to dismiss, Aiken, based in Eugene, Oregon, opened a path for an eventual court-mandated, science-based plan to bring about sharp emissions reductions in the United States. The case, Juliana v. United States, will now go to trial starting sometime in 2017 and could prove to be a major civil rights suit, eventually finding its way to the U.S. Supreme Court."
While this may sound like the plot of a Legally Blonde sequel it is rooted in precedent.
As Fast Company reports:
"'Neither this Congress or this administration are prepared to take the difficult steps to achieve the climate targets that science requires,' says Philip Gregory, one of the attorneys for the plaintiffs. 'Like the civil rights cases from the '50s and '60s when the school districts wouldn't integrate the schools and Congress and the state legislatures wouldn't pass legislation, children there turned to the courts. And here, these 21 kids turned to the courts because there really is no other place for them to go.'"
Will Juliana v. United States join Roe v. Wade, Brown v. Board of Education, and The People vs. O.J. Simpson as one of the most influential court cases in U.S. history?  That remains to be seen.  But, if this suit is successful, it would, at the very least, be the greatest twist of irony of all time as the court ruling would force Donald Trump, a notoriously litigious bastard, to enact climate policies that fly in the face of everything that he allegedly believes in.
I for one, sincerely hope that it is successful because what we really need to do is get some momentum on our side in the fight against climate change.  To turn the tide in our favor before the tide comes in for good, permanently changing our coastal borders.  A court mandated ruling asserting our right to a vibrant eco-system could be the push that we need to fight back against the ignorance of climate change deniers and the general apathy of mostly everyone else.
Am I putting too much faith into our court system?  A system that has failed us before.  A system that has, in many cases, played favorites towards people from one socio-economic background or another.  A system that is far from being infallible.  Susceptible to bribery, and corruption like anything else.  A system that could be heavily influenced by Trump's eventual appointments to the Supreme Court.  Probably.  But, when all us fails, faith is usually exactly what you turn to.
Court system, don't fail me now!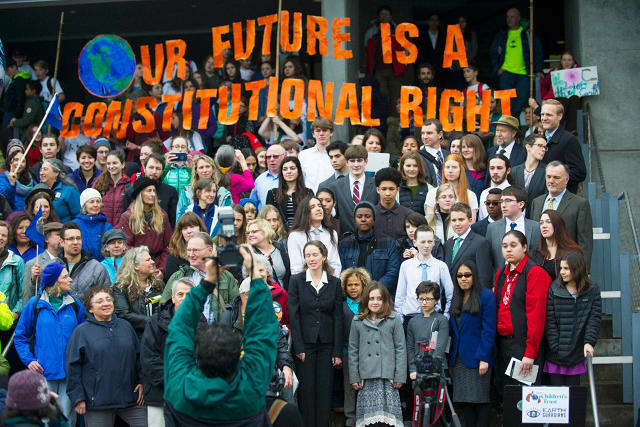 Is suing for the right to a stable climate the Greatest Idea Ever?