In honor of today being Back to the Future Day I thought it would be fun to start a series dedicated to quirky futuristic ideas.  The kind of things that might offer a glimpse into what everyday life might be like in the near future.  In the movies that meant hover boards, video conference screens and flying cars.  Inventions that perfectly capture the essence of what everyday life might be like in thirty years.
To kick things off (pun intended) I'd like to start with something that the movie depicted that is now on the verge of actually becoming a real thing:  self-lacing sneakers.  That's right.  After years of research and development Nike has actually turned science fiction into science fact.
As The Verge puts it, "Of all the technological innovations promised by Back to the Future II, two are most desired: the hoverboard, and self-lacing shoes. While the former is still only in prototype form (despite what some might say), it seems like we might be getting a pair of the latter sooner rather than later."
Fittingly (pun intended again) Nike gave the first pair to Michael J. Fox along with the note shown below: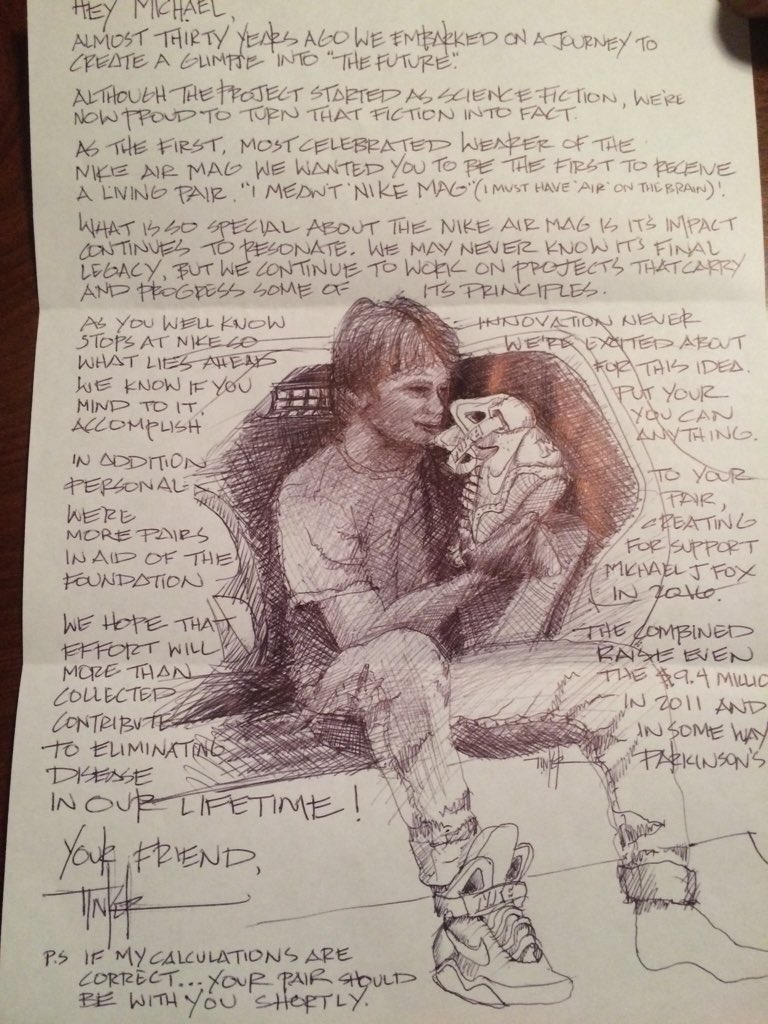 As cool as this is it's hard to believe that this concept actually works and that it will actually get mass produced.  If you thought the rush for a new pair of Jordans was bad just wait until this hits the market.  But apparently, it is in fact, possible.
Wired explains how:
"Very, very basically speaking, Nike patented a motorized system that will guide laces into their correct positions. An ankle cinching system will use a coil spring to tighten, keeping you snug, totally hands-free."
I'm sold.  Now if only we could do something about that pesky hover board.  And flying car.  And…
Is a self-lacing sneaker the Greatest Idea Ever?