If you don't like your nose or your boobs or even your calves there are plastic surgeries that you can undergo to enhance your appearance. But what happens if you don't like your entire body?  Or what happens if you're involved in a car accident and suddenly find yourself paralyzed?  Can you just get a whole new one?  Apparently the answer is soon going to be yes.
According to The Guardian, "Sergio Canavero, a doctor in Turin, Italy, has drawn up plans to graft a living person's head on to a donor body and claims the procedures needed to carry out the operation are not far off."
Meaning that we may, for the very first time in human history, be technologically advanced enough to not only contemplate such a procedure, but actually successfully pull it off.  How far off we are talking?  Just two years!
Of course there is going to be a tremendous amount of push back regarding this procedure even if it is technologically possible.  The ethical debates are going to be fierce and there's going to be legitimate concerns about body snatchers stealing the bodies of good looking people to attach to the head of a gangster overlord.  Thankfully my abnormally hairy back makes it extremely unlikely that I'll ever be the target of such body snatchers.
All this talk about a presumed science fiction premise becoming a reality got me thinking recently.  What other far fetched medical procedures could we soon see?  Here's a look at a few of the things I'd like to see:
A taste bud enhancement surgery to help cure picky eaters
The ability to store sleep for future use or to eliminate the need to sleep all together
A cure for the common cold
A way to prevent hangovers (this is actually in the works)
A way to father babies without women involved (this too)
Life extension therapies that make it possible to live well past 100
Along the same lines of full body transplants, re-animation efforts that can bring someone back to life up to an hour after their time of death
Ways to enhance or add senses such as having the ability to see infrared light or learn synesthesia (the ability to see sounds)
The ability to precisely add or remove individual hair follicles; no more male pattern baldness and hair in unwanted spots and no more constant grooming
A way to prevent the body from feeling pain stemming from inflammation for chronic pain sufferers
Some of those aforementioned fantasies are either already in the works or theoretically possible.  Others are so far fetched that we'll never see them.  But one thing is for sure: medicine as we know it is about to change.  One way or another.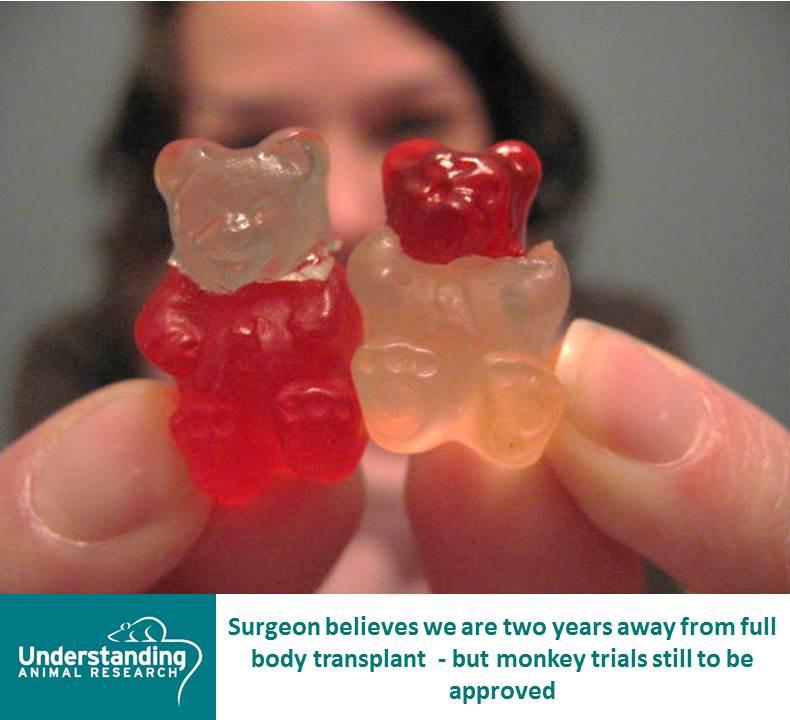 Is a full body transplant the Greatest Idea Ever?